Download IGNOU Assignment Front Page 2023 PDF
IGNOU Assignment Front Page Guidelines
Welcome to the IGNOU Assignment Front Page Download, where you can access user-friendly assignment front page templates in both Word and PDF formats. These templates offer complete customization options, allowing you to tailor them to your specific needs. They are also compatible with Microsoft Office software for added convenience. Below, we provide detailed instructions for designing your IGNOU Assignment Cover Page:
The first page of your assignment is of utmost importance. It must be visually appealing while adhering strictly to the University's prescribed format. To ensure your assignment front page aligns with the official format provided by the University on its website, consider the following comprehensive guidelines: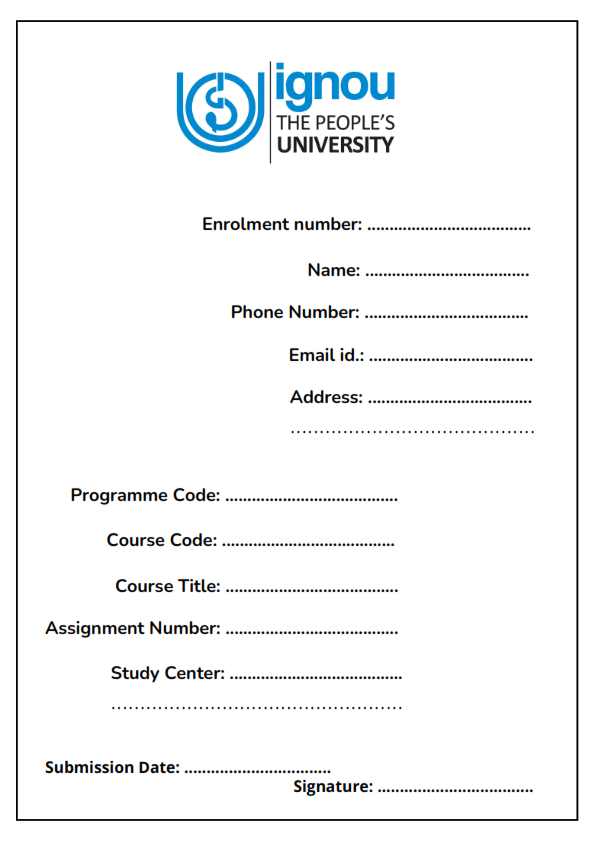 Essential Information for the First Page:
Name: Begin with your full name.
Roll Number: State your unique student roll number.
Address: Include your complete address for correspondence.
Course Name: Mention the name of the course you are enrolled in.
Study Centre: Specify the location or name of your IGNOU study center.
Programme: Indicate the academic program you are pursuing.
Date of Submission: Clearly state the deadline date for assignment submission.
Phone Number: Include a contact number where you can be reached.
Email Address: Provide your email address for communication purposes.
Your Signature: Sign the front page to authenticate your work.
It's crucial to prepare your assignment on an A4-sized sheet. Handwriting is mandatory for all IGNOU courses. You are allowed to write your answers on both sides of the paper for efficiency. When responding to the assignment questions, you have the option to include only the question number or write the entire question, with the latter being preferable for better understanding.
Important Note: Please be aware that IGNOU exclusively accepts handwritten assignments. Printed or typed assignments will not be considered for evaluation.
We encourage you to make use of this template to create your IGNOU Assignment Front Page, ensuring that it fully complies with the University's stipulated requirements. This well-structured front page will enhance the professional presentation of your assignment.
Type 1 Download
Type 2 Download